Groundbreaking held for new collegiate academy in McAllen
Community
By Amanda A. Taylor-Uchoa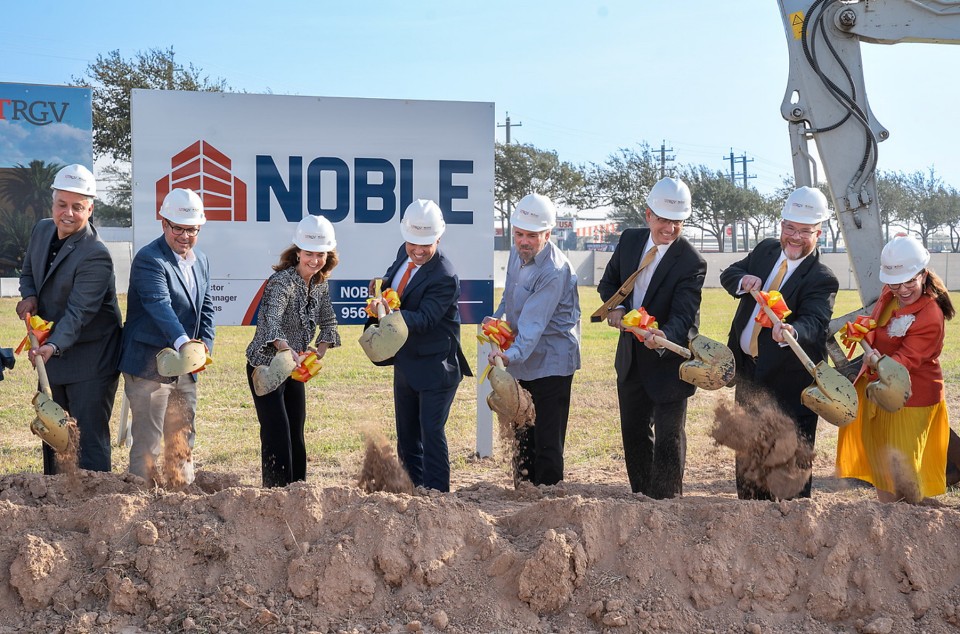 McALLEN, TEXAS – UTRGV and the McAllen Independent School District broke ground today on the new UTRGV-McAllen ISD Collegiate Academy to serve the students in the area.
This is a historic partnership that will give McAllen high school students a head start in their pursuit of a bachelor's degree, allowing them to pursue their degree at no cost. About $2.4 million in savings is expected per each class of 125 students over the course of two years.
At the groundbreaking ceremony, UTRGV President Guy Bailey said the university's role in the partnership allows students to gain opportunities at home in the Rio Grande Valley.
"This is a beautiful partnership and it's the perfect alignment to give our students the same opportunity you could get in the wealthiest school districts in the United States," Bailey said.
"These collegiate high schools are unique right now and we had them here first in the Rio Grande Valley. These opportunities make a difference for all of us. They are important for the quality of our lives. This is a game changer in so many ways."
The facility will be located at 1400 N. Commerce Center St., a 38-acre property at the corner of Pecan Boulevard and McColl Road.
Students will be able to choose one of four study tracks – health science, computer science, engineering, or education, or focus on completing their academic core. The first cohort of students will officially begin in fall 2024, but McAllen ISD has already begun recruiting students for a ninth-grade cohort and will add an additional cohort in 2023-2024 to prepare for fall courses.
More than 300 UTRGV-McAllen ISD Collegiate Academy students and elected officials and university administrators attended the groundbreaking ceremony in support of the state-of-the-art facility. Events concluded with a live performance from the award-winning McAllen High School Mariachi Oro.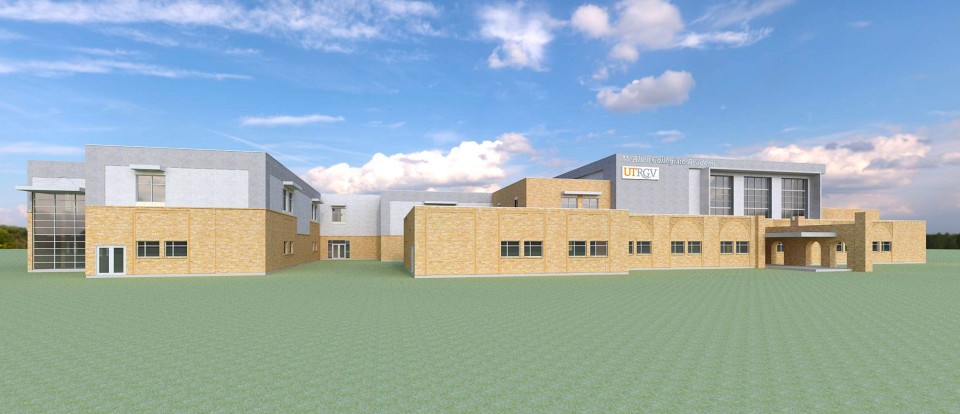 Tony Forina, McAllen ISD board president, said endeavors like the collaboration between McAllen ISD and UTRGV is where the future of education starts.
"UTRGV said they had this goal – this focus – that they wanted to bring their campus to the city of McAllen," he said. "It all starts with our community reaching out to our students and giving them this opportunity. It's making the whole Rio Grande Valley better and I am so proud to be a part of it."
Dr. J.A. Gonzalez, McAllen ISD superintendent of schools, said this partnership will affect generations to come and provide an array of educational opportunities.
"I've been with McAllen ISD for 25 years and I can say this is the proudest point of my career. If you look at what this collegiate academy will do, it will transform family trees for generations to come," he said.
"It will give people hope in knowing you don't have to leave the RGV to receive a world-class education, to receive world-class healthcare, and to accomplish your dreams. I am grateful to have a small part in making a positive difference to students."
Dr. Nolan Perez, UT System regent, said UTRGV is changing the landscape of education, healthcare, and the economy in this region.
"These faces are the future of Texas and the faces of this nation – so it's up to us. We all believe talent is universal, but opportunity is not. We are filling that gap and creating opportunities in the Rio Grande Valley."
Elizabeth Gonzalez, program director for the new collegiate academy, said education is the greatest equalizer.
"I knew I wanted to work in education, and I wanted to find a way to help advance the medical community here, and then came this opportunity," she said.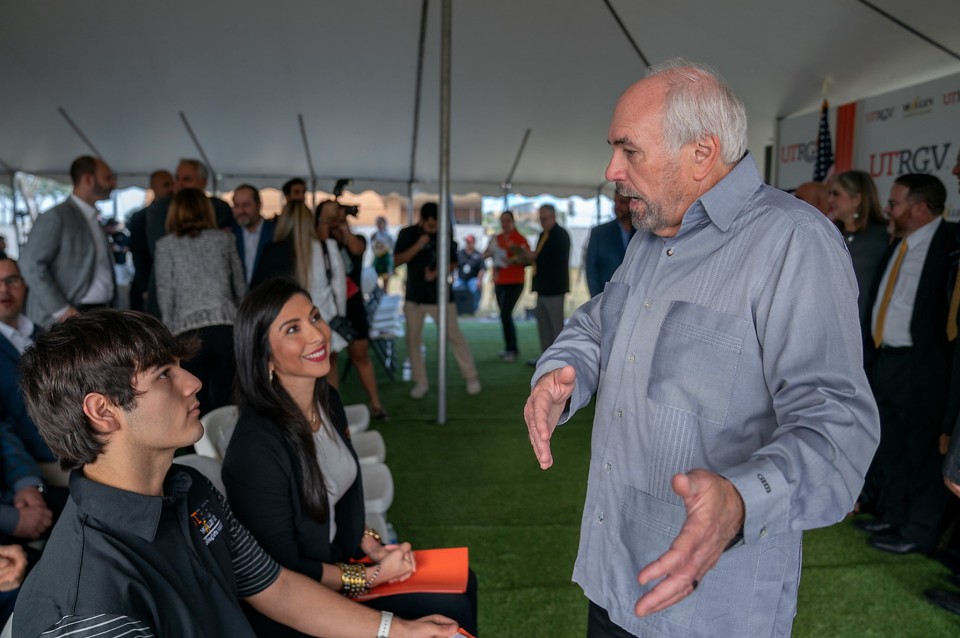 An MOU (Memorandum of Understanding) was signed between the university and McAllen ISD on March 23.
Ruben Vega, a ninth grader from James "Nikki" Rowe High School, said this new collegiate academy will help students grow and achieve opportunities their own families may not have had.
"Thank you to everyone who came together to make this opportunity for us. Opportunity is likely why we are all here – we all saw a new path that would allow us to follow our dreams to be successfully built, we saw a chance to grow as individuals," he said.
"Some of us are here because we wanted to follow in our parents or siblings' footsteps, and others are here to embrace an opportunity our parents never had."
One of the greatest impacts the new collegiate high school will have on students is allowing them to get a jump on achieving bachelor's degrees. The academy will focus on Dual-Credit Educational Programs to help students earn college-level credits before they graduate high school.
Luis San Juan, a ninth grader from McAllen Memorial High School, said attending the collegiate academy will help his family financially.
"It's amazing to have this chance and I'm grateful for the opportunity to attend," he said. "My family doesn't have a lot of money to pay for four years of college, so this helps them a lot."
Tristan Hernandez, a ninth grader from McAllen Memorial High School, said the opportunity to attend the school will help him in his goal of becoming a doctor.
"I feel very excited. I think it's a great opportunity for all of us and I can't wait for the school to open. It will be an amazing experience and I am excited to get a head start in college, and it's great for my parents because it helps them pay for my college career."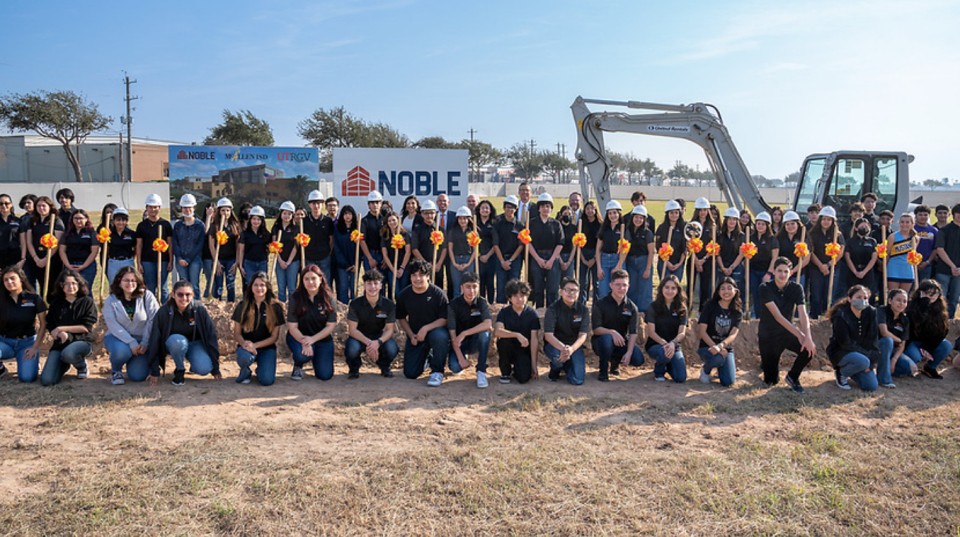 Original Photos and article credit belong to UTRGV. The original article link is here.