By Steve Clark, The Brownsville Herald
"Our job is to make sure that everybody goes home safe every single day. That includes all the subcontractors, suppliers, our clients, architects and just anybody who walks onto the site. We take safety very, very seriously."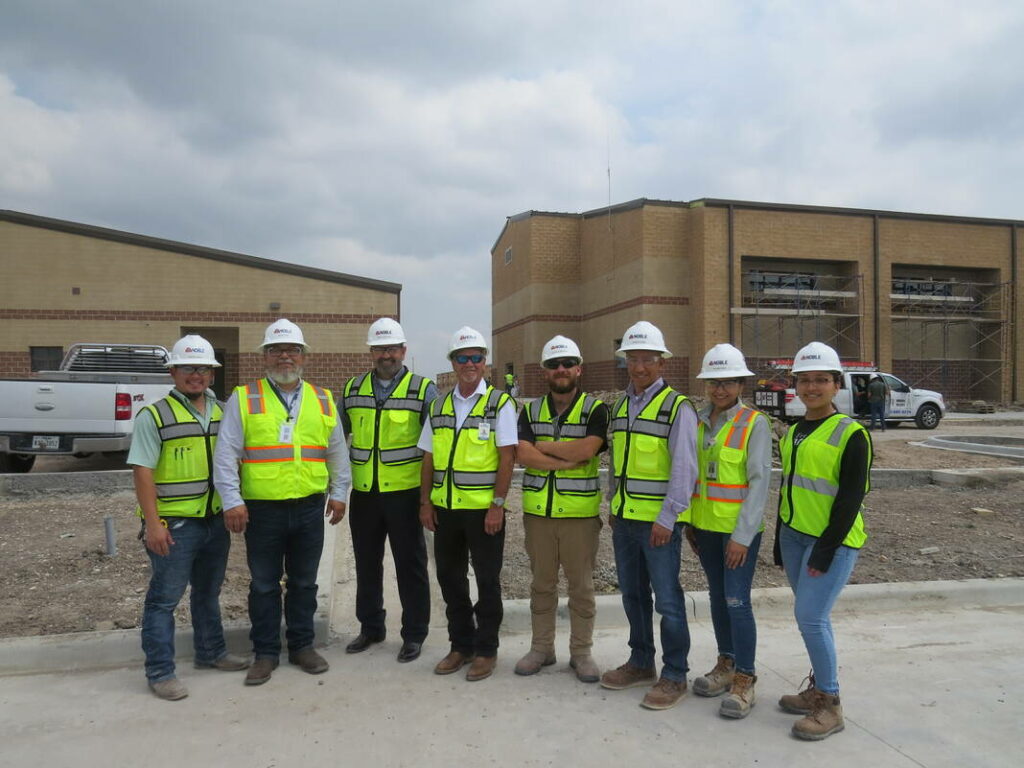 Noble Texas Builders has built an extraordinary safety record in just eight years in business, and that's no accident.
The La Feria-headquartered general contractor was recognized with a first-place Construction Safety Excellence Award at the Associated General Contractors of America national convention in Las Vegas on March 15.
Noble beat out contractors from across the United States vying for the award in the small-contractor division.
Rene Capistran, president, CEO and co-founder of the employee-owned company, likened it to the "Super Bowl of the construction industry," adding that safety is the most important aspect of every aspect of operation.
"Our job is to make sure that everybody goes home safe every single day," he said. "That includes all the subcontractors, suppliers, our clients, architects and just anybody who walks onto the site. We take safety very, very seriously."
For such a young firm to win AGC's top award in the division is quite an honor, Capistran said, noting that Noble was founded with the intent of creating a culture of personal safety in which every team member has responsibility.
"We empower everybody at the site to be their own police officer, to protect themselves and everybody around them," he said. "I think that's what has really made a difference, when you empower people to do better."
The company established the Noble Leadership Academy with such a goal in mind, teaming up with universities and the state to develop a curriculum covering every aspect of the construction business, such as means and methods, business development, legal, insurance and of course safety.
"Everything you can imagine, we have a program developed for our employees to learn and grow," Capistran said.
The approach is embodied in a Japanese model of continuous improvement known as Kaizen, popularized by Toyota. Continuous improvement is essential to combating complacency, and complacency is how people get hurt, Capistran said. He cited the back-up alarms on trucks and other heavy equipment that can be heard beeping nearly constantly on construction sites.
"If you're there for eight hours you don't pay attention," Capistran said. "You don't hear it anymore."
It requires constant reminders to team members to be careful, which is the reason behind the Job Safety Analysis conducted every morning at every Noble job site, plus weekly "Toolbox Talks" focusing on site-specific issues, he said.
"Let's say we'll have a crane on the job site today, so we tell everyone, keep your eyes up. There will be things swinging over your head," he said.
The AGC judging panel was impressed by Noble's comprehensive safety program and impeccable safety record — zero incidents, accidents or lost time in five years — in addition to the company's use of 360-degree cameras and other cutting-edge technology on job sites, Capistran said.
"It was great for our team members, because now you bring in an accolade as prestigious as that, and you say, look, what we're doing is working."
Noble began with three people in 2015 and today has 118 team members and satellite offices in Houston and San Antonio.
The firm's approach to doing business has attracted major clients, including H-E-B, which Noble does projects for all over the state, Capistran said. Noble is currently working on an interior renovation of the Brownsville H-E-B at 2250 Boca Chica Blvd.
"There are very few contractors who can work for H-E-B," he said. "It's very difficult to get into H-E-B."
Two other significant projects underway in the Rio Grande Valley are the new Rancho Verde Elementary School, which Noble plans to deliver to owner Los Fresnos Consolidated Independent School District on June 15, and McAllen Collegiate High School, which should be complete in July 2024, Capistran said.
And while winning such a major recognition from AGC definitely burnishes Noble's reputation and ability to attract good clients, it also sends a good message to the men and women who make up the company.
"It was great for our team members, because now you bring in an accolade as prestigious as that, and you say, look, what we're doing is working," he said.
Original credit goes to Steve Clark, The Brownsville Herald. The original article is linked here.