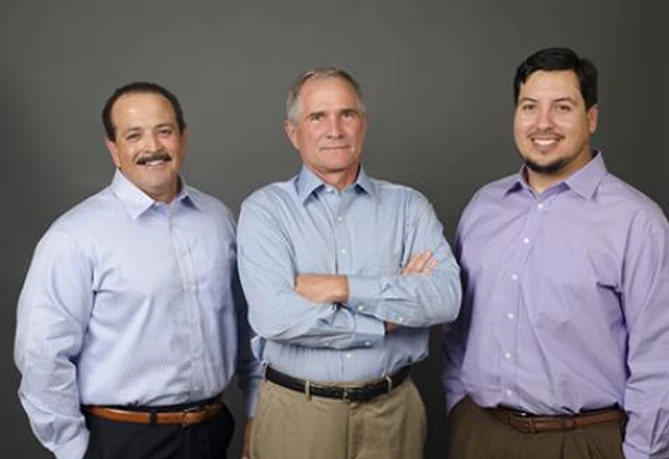 Noble Texas Builders is a GC, construction management, and design + build firm headed by partners Rene Capistran, president; Patrick Williams, vice president; and Alfredo Garcia, Jr., director of operations.
"We provide hands-on professional construction services with pro-active solutions that deliver on a commitment to build quality facilities by an experienced and trusted team," says Capistran.
Even though the firm is new, Capistran says the partners have a combined experience of more than 60 years. The firm's philosophy is: "Having Fun, Doing What We Love."
As partners, we came together and dedicated ourselves to building a company that would provide a friendly work environment that fosters and promotes employees' growth," Capistran says. "Noble Texas Builders core values are 'Trust, Team, Community.
The partners say the name 'Noble Texas Builders' comes from two sources.
"What we have learned is the importance of being honest and ethical and building relationships," Williams says. "When you take all those things one word defines that – and that is noble. It embodies the integrity we were looking for. If we wake up every morning and look at the world, it's what we aspire to be every day."
According to Williams, a friend who owns a similarly named company in El Paso was also an inspiration for the name. Ruben Gonzalez, who owns Noble General Contractors, a completely separate company, helped the partners when they created Noble Texas Builders.
"Ruben offered his help. He was our benchmark," Williams said. "He believes, as well, that if you do general contracting the right way, it is a noble profession."
Garcia shared a story about the company's humbling beginnings. "When we showed up the first week at our new office, there was not even a chair. The second week, Patrick brought his own," he laughed.
Now, there are 24 employees to help fulfill the dream that the partners created.
"Pat and I started having these conversations years ago," Capistran said. "Once we decided to move forward, we found there was a great need."
Williams, Capistran and Garcia had worked for the same large general contracting company prior.
That company had extremely good values and high ideals," Capistran said. "We brought that to Noble Texas Builders. We intend to bring that level of service in a smaller company. From experience, we know how much our customer's expect from us and we aim to deliver.
The partners say they support several community programs, specifically identified as needs in the areas they live and work in, including United Way, Easter Seals and Hooked for Life – Kids Gone Fish'n.
"We believe in investing in the human capital in the areas we are serving," Garcia says. –cw
Original article: http://www.constructionnews.net/south-texas/industry-news-st/9945-totally-noble.html